Dorcas Wepukhulu reports

Kenya's location in East Africa has made it a centre for many international bodies such as the UN. Kenya plays a major role in ensuring stability in South Sudan and Somalia. It is home to many refugees fleeing war from the two countries as well as from the Great Lakes.

Kenya borders Somalia to the east, Ethiopia to the north, Tanzania to the south, Uganda to the west and South Sudan to the northwest.

Kenya's official language is English while Kiswahili is the national language. There are other numerous languages spoken across the country some more widespread than others. Most of these languages reflect the ethnic affiliation of the speakers such as Kikuyu, Luhya, Luo, Kalenjin, Kamba, Ateso and many others.

The language of instruction is English with an allowance to use the "language of the catchment area (Mother-tongue) in ECD centres for purposes of communication and instruction with gradual introduction of English and Kiswahili" (MOE, 2012). English and Kiswahili are both taught and examined at all levels.

Following the New Constitution 2010, Kenya changed its internal boundaries from eight provinces to forty seven counties (see map).

According to the 2012 estimates, the country's population is 43 million with a growth rate of 2.44%. Kenya's capital Nairobi accounts for over 3 million of the total population, many of who live in one of the largest slums in East and Central Africa, Kibera. Kenya's literacy rate stands at about 88%.

Our pilot sites in Kenya
To the west of the country about 395 kilometres from Nairobi is Kakamega County, where Munanga Primary School , another pilot site is located. The land is fertile and people practise farming. Munanga is a village primary school found few kilometres from Kakamega town. The children come from the larger Luhya community, speaking different Luhya dialects as their first language.

To the south of Nairobi, lies Kajiado County, a county home to the Maasai community. In Kajiado, we have Oloosirkon Primary School considered a peri-urban school. Kajiado is semi-arid and the Maasai who live here keep lots of livestock. Kajiado's proximity to Nairobi means that there are other people from different parts of Kenya who have settled there. Oloosirkon Primary School which is about 25 kilometres from Nairobi has children from different communities.

To the northwest lies Turkana County, an expanse of arid and semi-arid land characterised by sand, rocks and thorny bushes. The county covers an area of 77,000 square kilometres with its administrative offices in Lodwar, over 600 kilometers from Nairobi. Its immense size poses a challenge in terms of service delivery such as education, road network, health and even security. The people are mainly pastoralists relying mainly on livestock keeping. Poverty is high in the area and this impacts negatively on education.

It is in Turkana that Lolupe Primary School, one of the African Storybook Project pilot sites, is located. Lolupe has a population of about 222 pupils. It has an ECD section with a population of 55 children with three other ECDs located outside the school compound. The children in Lolupe are mostly from the Turkana community, speaking Ng'aturkana as their first language.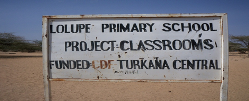 ASP will lessen teachers' workload as children will be able to access the same story at a time making it possible to teach them (not all books available are enough so teachers use different books to teach and it's time consuming)
It will be easier for teachers to evaluate what stories kids like and see their progress in terms of reading and comprehending:
Children will read stories relevant to them and their lifestyle
It will be a way of enabling teachers to be digital
It will help to revive the few written Turkana books that have virtually disappeared
Give opportunity to those interested in writing, to write stories
It will be easy to make a timetable for all classes to access stories
It will attract children to come to school and stay
Will be helpful in teaching sounds and pronunciations as it's a big challenge.