An important principle for Saide's African Storybook Initiative has been to consider the resources that African children currently get to help them to learn to read, and aim to exceed this quality and variety through the use of technology – but without massive investment in infrastructure or devices. The project needs to pilot and test at a number of pilot site a low cost technological model of delivery of the stories, not based on the assumption that the technology is currently available, but on the assumption of affordability for large scale provision. Greig Krull reports.

This consideration has been central to the website design so that it has a simple, clean, non-bandwidth intensive interface that can be accessed via a variety of devices. The stories will also be available in different resolutions to reduce the data to download and increase the speed of the download in resource-poor areas.

One of the realities of the ASP is to deal with the challenge of delivering digitized stories in contexts where there may be no electricity, and infrequent or absent internet connectivity. The project aims to test a variety of delivery models to ensure that these challenges do not hinder the achievement of the project's goal. The question of how interested users in the pilot countries can access, use and contribute more stories on the website keeps arising.
There are several options that will be explored:
On-demand printing through the use of local copying and printing centres;
Part-time website access where stories are downloaded and saved on local devices for sharing;
The use of low cost hardware devices such as Raspberry Pi (or similar) for storage;
Working in collaboration with partners who may already be engaged in technology and literacy and build on these initiatives;
The use of projectors and notebooks for schools so that stories can be displayed on a wall for a group of children.
In the absence of reliable electricity in pilot sites:
The use of small portable solar lamps that charge phones and other mobile devices;
Work towards ascertaining the use of mobile phones where schools/ communities are encouraged to invest in external battery chargers;
The use of portable projectors that can be used with batteries for up to 2 hours.
In the absence of reliable internet access in pilot sites:
Encourageing regular dowload and storage of stories on external drives for use even where there is no internet;
Printing in bulk sets of stories for use as hard copies;
Creating associations and hub centres where others can come to

Charge phones/extra batteries/laptops
Download stories onto external drives
Print stories
Create stories to be uploaded to the website.

Investing in connectivity booster devices.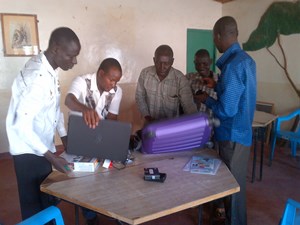 Teachers unpacking their devices - laptop, handheld projector, solar lamp, 3G modem, voice recorder from the storage suitcase in Lodwar, Turkana, Kenya.